Amazing Art stories...
Seeking the psychic cow syncronicity
Shortly after uploading my web page entitled "Seeking the psychic cow" I was invited to draw caricature & perform mime at an event in Medina, Ohio whose guest of honor requested to be drawn with his pet cow.

Lucky ( the cow ) looked just like the cow on my page! Talk about your Deja-MOO! Wow, the cows are coming home! A few days after the party, someone on my block turned 21 years old. The family had 21 black & white cows ( just like lucky and the psychic cow ) placed on the front lawn to commemorate the event. haha. This is amazing.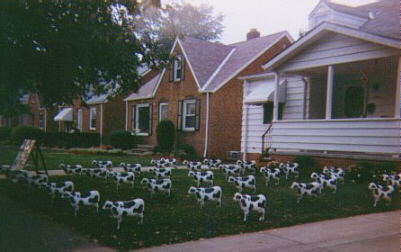 Dancing with Angels website merits phone call from Heaven...
The day after uploading my "Dancing with Angels" Site, I received a call from Heaven. Turns out that "Heaven" is a nightclub in the flats...they were looking for someone to paint a mural...
Job radar
One evening I received an invitation to a nightclub to listen to a jazz band. I decided to bring my drawing board in the event I felt like drawing. When we got to the club a woman came up to me and said; "Oh, you must be the artist we called this morning to draw the band!" Uh, not exactly. Interesting, the artist who did receive the call did not show up, but I did with drawing board in hand!
Art is an adventure...
PEACE is GOOD

Amazing Rainbow Stories
Link to some FREE peace graphics
About Caricature Entertainment
janlecomteart@yahoo.com
Follow Jan on Twitter
Add Jan on Facebook
Jan's Wordpress Blog
Copyright 1998~ Jan LeComte The Empress' garden