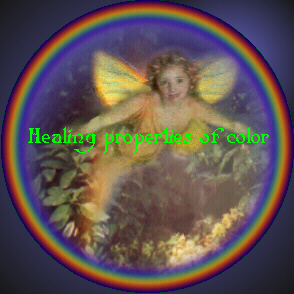 RED
VITALITY, COURAGE, SELF CONFIDENCE.
It is used in photodynamic therapy to erradicate cancer.
Red is a warm color that promotes healing. It will warm
cold areas to reduce pain and releave stiffness.
Red stimulates circulation of blood and flow of adrenaline.
Persons with high blood pressure should use with caution.
Red energy governs the ROOT CHAKRA.

ORANGE
CHEERFULNESS, CONFIDENCE, RESOURCEFULNESS
also a color of energy. Orange stimulates mental enlightenment.
It is used to increase immunity, sexual potency and aid digestive
ailments. Stimulates digestion. Orange can be used to help heal
conditions of the kidney, bladder and lungs.
Orange governs the SPLEEN CHAKRA

YELLOW
WISDOM, CLARITY, SELF-ESTEEM
mentally stimulating. It strengthens the nervous system. Helps cure
dermatitis and other skin problems. Yellow can be used for conditions of the stomach,
liver, and intestines.
Yellow governs the SOLAR PLEXIS CHAKRA

GREEN
BALANCE, LOVE, SELF CONTROL
promotes calmness. Green is a good general healing color because it
stimulates growth. The ancient Egyptians and Chinese used green as the
primary color of healing. A good color to help create an atmosphere of
serenity.
Green governs the HEART CHAKRA.

BLUE
KNOWLEDGE, HEALTH, DECISIVENESS,SERENITY and HARMONY
Blue is helpful in cooling, calming, reconstructing and protecting.
It is very good for burns. Solarized blue water is an excellent tonic for laryngitis or
inflammation of the larynx.
Blue governs theTHROAT CHAKRA

INDIGO
INTUITION, MYSTICISM, UNDERSTANDING
Indigo is used for conditions of the ears, nose and eyes and has
anesthetic properties. Indigo is cool, electric, and astringent.
Indigo governs BROW CHAKRA

VIOLET
BEAUTY, CREATIVITY, INSPIRATION,
expands divine understanding It is good for mental and nervous problems.
Helps with pain, is used in deep tissue work and helps heal the bones.
Violet governs the CROWN CHAKRA

WHITE
Purity, Truth, Protection, Spirituality
White is all color in perfect balance and harmony. It is the color of the
awakened Spirit; the light of perfection; the light of the Christ and Buddhic
consciousness. It is also the Divine Light.