AMAZING RAINBOW STORIES

July 24 l999 was the first block party on our street.
I drew caricatures and took photos of the party.
We were rained out for a short time so I had the opportunity
to get some pictures of rainbows photographed in my garden
to show the children. We passed the pictures around as I
gave a brief optics lesson. Within five minutes a RAINBOW
appeared in the sky! Fortunately I had my camera :)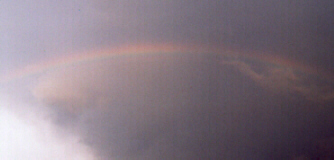 I Love RA INBOWS! *smile*
When first photographing rainbows in my garden I was
hopeful they would develop the way I was seeing them
& had expressed this to fellow artist and friend Julie.
I was delighted with the results and wanted to share the
good news. Julie created the medicine wheel present in
some of the pics. I was examining the RAINBOW photos
which were covering the desktop in front of me while
calling to be greeted by her answering machine. There was
a new message which I hadn't heard before. Her message;
"The RAINBOW has arrived." I laughed, It sure has!
Boldly you must walk on your path
at this time there can be no hesitation~
The right way is the only way.
Let SPIRIT guide you every day.
Do not think-it only gets in the
way of the DIVINE flow
You will be where you need to be
You will have what you need to have
Lessons will come quickly -
you will absorb them & intregrate them
Power from within is growing in everyone
Control and fear will diminish
as the RAINBOW touches each soul
KNOW in your hearts
FEEL in your hearts
SEE in your hearts
The rainbow has arrived!
Julie Longhill "Earthangelwalker"
When I first started working in my garden I found all
sorts of treasures like old spark plugs, disposable pens,
shards of glass and plenty of red clay. Needless to say
things were not growing well. I amended the soil by digging
3 feet into the ground and replacing the clay with compost &
topsoil. Always found plenty of plastic wrappers, broken
concrete and pipe. One day while working I found an unusual
stone. It was shaped like a heart and appeared to be some
form of crystal or glass. I showed the stone to a neighbor who
said it looked like Apache tears. Later that day I called Julie
who had just visited the Serpent Mound, a Native American
burial ground. I told her about the heart stone and she told me
about her visit to the Serpent Mound and how a Shawnee woman
had given her a book of Native American legends which she felt
the last chapter of the book was something I needed
to hear. She read; " The legend of the heart stone...the heart
stone was placed in the center of the community with the help
of the children so that the community would have heart !" Cool!
I was sitting at my desk with a heart shaped, rainbow colored
slinky in my hands. I had one heart in my right hand and one
in my left and contemplated the rainbow colors as I shifted the
slinky from hand to hand. I looked at the heart shaped stone I
had found and was in wonder of what it all meant. Suddenly the
phone rang and someone asked; "Is this heart to heart?" Sorry,
wrong number. How interesting that someone would call at the
moment I was contemplating the hearts and shifting the slinky
from the heart in my right hand to the heart in my left hand...
heart to heart ! I discovered that " Heart to Heart " is a pet
grooming shop in our city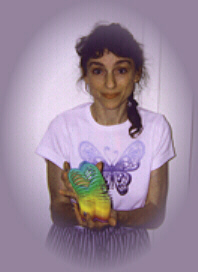 IF I COULD CATCH A RA INBOW
I WOULD DO IT JUST FOR YOU
AND SHARE WITH YOU ITS BEAUTY
ON THE DAYS YOU'RE FEELING BLUE
IF I COULD BUILD A MOUNTAIN
YOU COULD CALL YOUR VERY OWN
A PLACE TO FIND SERENITY
A PLACE TO BE ALONE
IF I COULD TAKE YOUR TROUBLES
I WOULD TOSS THEM INTO THE SEA
BUT ALL THESE THINGS I'M FINDING
ARE IMPOSSIBLE FOR ME
I CANNOT BUILD A MOUNTAIN
OR CATCH A RA INBOWFAIR
BUT LET ME BE WHAT I KNOW BEST
A FRIEND THAT'S ALWAYS THERE.